Reduce Your Breast Cancer Risk
Annual screening mammograms are vital to reducing the impact of breast cancer by detecting cancer early. You can reduce your risk of developing cancer by making lifestyle changes:
Eat a diet rich in fruits, vegetables, whole grains and lean protein.
Avoid foods high in saturated fat and sugar.
Adopt a physically active lifestyle, aiming for 150 minutes of moderate weekly exercise.
Consume alcohol in moderation – no more than one drink per day.
Avoid or limit the duration of postmenopausal hormone therapy.
Early detection saves lives
Our physicians and the American Cancer Society agree – early detection saves lives. Screening mammograms are recommended for women of average risk starting at 40. If you're 40 or older, schedule your annual screening mammogram today by calling 507-433-8758 or schedule online.
Most insurances cover the cost of a screening mammogram, but we recommend that you check with your insurance provider to confirm coverage and copay prior to your appointment. For women without insurance or insurance that does not cover breast cancer screening, you may be eligible for free breast cancer screening through Minnesota's Sage Breast and Cervical Cancer Screening program.
Cancer care at Mayo Clinic Health System
Receiving a cancer diagnosis can be life-altering and overwhelming. Our cancer specialists collaborate to deliver a seamless experience – from diagnosis to treatment and recovery – so you can get back to doing what you love.  Find an oncology specialist near you.
Interested in wellness tips?
Expert health advice, inspired stories, upcoming events and other helpful information can be delivered to your inbox. Sign up today!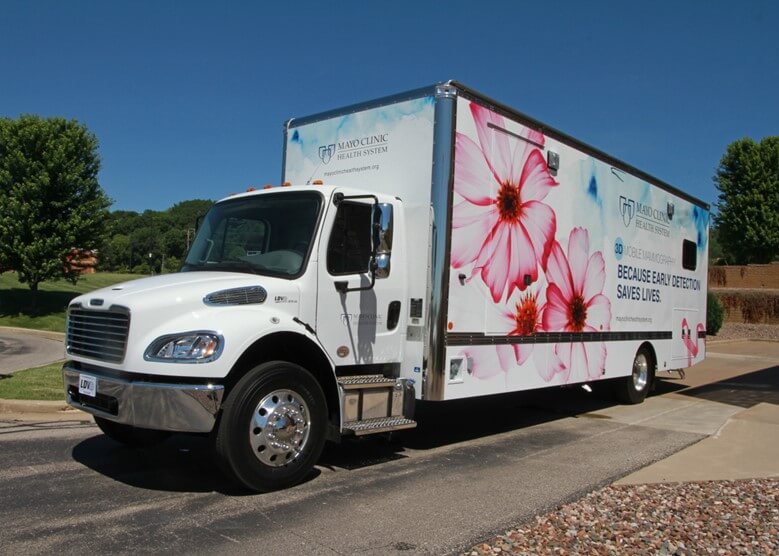 Mobile Mammography Unit
Did you know you can help your employees access recommended breast cancer screenings during the workday?
The Mobile Mammography unit brings Mayo Clinic care to your workplace offering the latest 3D breast imaging technology – reducing time and travel for your employees to receive their annual screening mammograms.
Please note, a minimum number of women are required for the mobile unit to be onsite. If your business would like more information on how to partner with the mobile mammography unit to bring breast cancer screening to your employees, email mobilemammo@mayo.edu.