Where Can I Spend Chamber Bucks?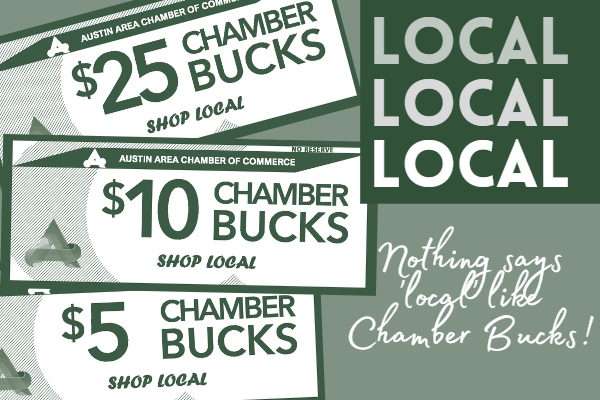 Chamber Bucks Participating Businesses Map
 Shopping in Austin, Minnesota just got a whole lot easier with Chamber Bucks! By using Chamber Bucks, you can get the best deals and discounts on the items you need while also supporting local businesses.
Chamber Bucks spend like cash and can be purchased in $5, $10, and $25 denominations at the Chamber of Commerce office. The best part? Chamber Bucks never expire or diminish in value, so you don't have to worry about a gift certificate going to waste.
Whatever you buy with your Chamber Bucks, you're directly supporting local businesses who are the lifeblood of our community. It's a great way to show your support for Austin's economy. (And guess what? They are the perfect gift for friends, family, and employees!)
So don't wait! Get your Chamber Bucks today and start enjoying the benefits of shopping in Austin, Minnesota.
What can I use Chamber Bucks for?
Chamber Bucks are accepted at a variety of establishments throughout town, including restaurants, boutiques, and even service-oriented businesses. They spend the same as cash, so whether you're looking for a new outfit or a night out on the town, Chamber Bucks can help you get the most bang for your buck.
↓↓↓ SCROLL FOR LIST OF BUSINESSES THAT ACCEPT CHAMBER BUCKS ↓↓↓
How do you purchase Chamber Bucks?
Drop by the Austin Area Chamber of Commerce office at 329 N Main St, Ste 102 during business hours. You'll receive a guide to the many local businesses who accept Chamber Bucks, or you can view our Chamber Bucks Map to the left.
For Businesses: How do I redeem Chamber Bucks?
Let us know the total dollar amount of Chamber Bucks you're redeeming by calling us at
(507) 437-4561
or
emailing us.
Then either mail or drop the Chamber Bucks to us, and we'll cut a check. Typically checks are available Thursdays or Fridays with at least 24 hours notice.
List of Businesses that Accept Chamber Bucks
Bollingberg Chiropractic
Brick Furniture
Brush Hour Painting
Bursch Travel, Inc.
Cannalids
Cheers Liquor
China Star
CLA
Collision Specialists, Inc.
Complete Automotive Service & Sales
Culligan Water Conditioning
Culver's Restaurant
D & G Ace Hardware
Diamond Ridge Printing
Donkers Hometown Appliance
Echo Lanes
El Mariachi Mexican Restaurant
El Patron Mexican Grill
Elrod, Green & Heimer, D.D.S.
Family Eye Care Center
Firestone
Freeborn County Co-Op Oil
G & G Heating & Air Conditioning
Games People Play
Gappa Automotive
George's Pizza
Godfather's Pizza
Golden Tress Salon & Day Spa
Gravity Storm Brewery
Greenman Heating & Air Conditioning
Guy Family Dentistry
Hardee's
Harty Mechanical, Inc.
Heartman Insurance
Hill, Larson, & Walth, P.A.
Holiday Inn & Conference Center
Hoot & Ole's Tavern
Huffman Flooring & Design Center
Hy-Vee Food Store
Hy-Vee Market Grille Express
Hy-Vee Wine & Spirits
Jane Taylor Academy of Dance
Jay C. Hormel Nature Center
Jenni Linnett Coaching
Jim's Market Place Foods
Just Take the Cake Too
Keller Williams Premier Realty
Kenny's Oak Grill
Kruckeberg Services
Kwik Trip (all four Austin locations)
Lansing Corners
Life Safety 4-U
Maurices
McDonalds (both Austin locations)
McNeely Tax and Accounting LLC
Meadow Greens Golf Course
Medgarden's Southwest Sales
Medicap Pharmacy
Midtown Auto Clinic—Bartley Automotive
Midwest Cabinetry & Millwork
MJ O'Connor, Inc.
Moline Awards & Engraving/United Pack & Ship
Morem Tree/Agri-Lawn
Mower County Fair
Mower County Historical Society
Nelson Dental PLLC
Nicol's Fast Lube
North Star Body Shop/Southwest Sales
Nystrom Signs
Old 218
Overby Orthodontics
Paramount Theatre
Perkins Restaurant & Bakery
Pet Authority
Piggy Blues Bar-B-Que, Inc.
Pizza Ranch
Potach & Mitchell Dental Clinic, P.A.
Pulver Towing
Riverland Community College
Rolling Green Fencing
Rooms and Rest
Runnings
Rydjor Bike Shop
S&S Towing
Schieck Dental
Schmitt Family Dentistry
Sellers Lock & Key
Servpro Austin/Albert Lea
Sherwin Williams Co.
Shoe Sensation
Simplified Technology Solutions, LLC
Smyth Companies, Inc.
South Main Auto
Spam® Shop
Star Liquor
Sterling Drug Main Street
Steve's Pizza
Struck Chiropractic Clinic
Style Lounge Salon, The
Super Fresh Produce & Bakery, Inc.
Superior Cannabis Company, LLC
Sweet Reads
Taco John's
The Muffler Center
The Old Mill
Thompson Sanitation
Tiende Y Taqueria Guerrero
Tiny's Body Shop
Torge's Live
Total Fitness of Austin
Tranny Shop of Austin
Trimble's Cycle Center
TZone by Tracy
V.F.W. Post 1216
Wellness 1st Chiropractic Clinic
White's Tendermaid, Inc.
Willow Pet Hospital