2023 Member of the Year Nominations Open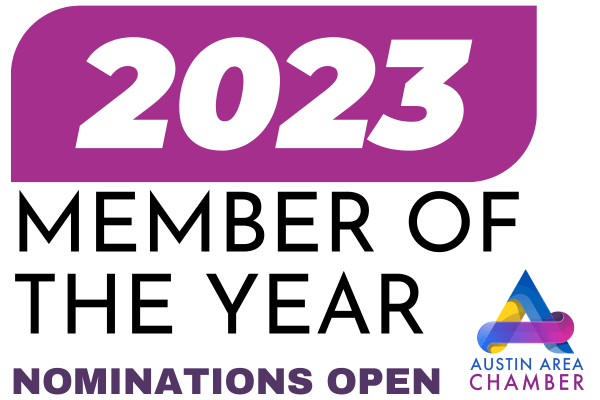 The Member of the Year Awards are now officially open!
This is an incredible opportunity for each and every one of you to recognize the exceptional contributions and unwavering dedication of your fellow Chamber members, or even your own businesses, in driving our community towards prosperity and growth.
We have two categories for nominations: Large Member (15 or more employees) and Small Member (14 or fewer employees), ensuring that businesses of all sizes are acknowledged and celebrated for their remarkable achievements.
Nomination Criteria
The Member of the Year Awards stand as a testament to the passion and commitment our members and is a chance to spotlight those who have gone above and beyond, embodying the spirit of member engagement, community service, and collaboration.
To be eligible, the nominee must be a current member of the Chamber. Nominees will be scored based on:
Involvement with the Chamber (10 pts)
Community Service (5 pts)
Customer Service (5 pts)
Improvement and Growth (5 pts)
Commitment to Employees (5 pts)
How to Nominate
Simply complete and return the nomination form and return it to the Chamber. Share specific examples of their outstanding contributions, involvement in Chamber events, and their dedication to the Austin community.
Your nominations will help our Selection Committee recognize our outstanding members.
Nomination Deadline: Thursday, August 31, 2023
The winners will be announced at the Annual Awards Dinner on November 15, 2023.
Why Nominate?
By taking part in this celebration of excellence, you are not only recognizing the outstanding achievements of your fellow members or your own business but also contributing to the fabric of our dynamic business community. Your nominations highlight the unity and collaboration that define the Austin Area Chamber of Commerce.
The Member of the Year Awards is an occasion of pride and camaraderie, where we come together to applaud the dedicated individuals and businesses that make Austin such a special place to live, work, and prosper.
Thank you for your active participation in the Austin Area Chamber of Commerce!