Our House: Where Caring and Compassion Define Senior Living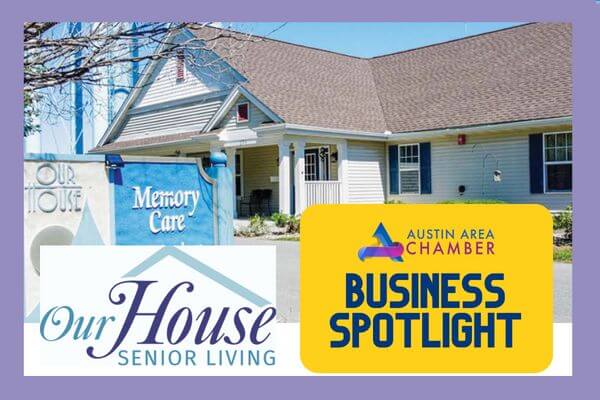 In the heart of Austin, Minnesota, there is a place called Our House that provides exceptional senior housing and care. We spoke with Melissa Madison, the Executive Director overseeing the three facilities that make up Our House, to learn more about their commitment to serving the senior community.
Memory Care, Independent Living, and Assisted Living for Seniors in Austin
Our House offers a range of services to meet the diverse needs of seniors in the area. With two dedicated memory care units and one building for independent living and assisted living apartments, Our House provides a warm and caring environment for residents.
"We offer assisted living and memory care," Melissa said, "and we began offering independent living last year. We provide full care in our memory care, and we have all the typical assisted living services."
What sets Our House apart from other senior housing options in Austin? According to Melissa, it's their genuine care and dedication to residents and their families. She emphasized, "I think it is because we actually care about residents. We have worked hard in our memory care units to make them the best they possibly can be, to make the families feel at home. We have an open line of communication and invite families into our buildings to see what we're doing. We want them to get to know us."
Learn More about Our House Services and Facilities
Keeping Seniors Active (and Safe) at Our House
One of the focus areas at Our House is maintaining the well-being and quality of life for its residents. Melissa highlighted their robust activity program, especially in the memory care units.
"We really want a huge activity program to keep everybody as cognitively aware as possible. We have dedicated staff for activities, and our residents enjoy a wide range of engaging experiences, from outdoor grilling and painting to even Nerf gun battles. Our goal is to keep them busy and stimulated."
Ensuring the safety and security of residents is a top priority for Our House. They have implemented various measures to create a secure environment. Melissa explained, "We take safety very seriously. We have an open-door policy for all our staff, and we address any complaints promptly. Our focus is always on the resident and their families."
Community and social engagement play a vital role at Our House. Melissa expressed, "We like to bring families in and encourage their participation in activities and events. We organize holiday parties and picnics where everyone can come together. We understand the importance of fostering a sense of community among our residents and their loved ones."
Visit the Our House Facebook Page
Our House actively collaborates with other organizations and healthcare providers to ensure comprehensive care for its residents. They work closely with leading age organizations, attend conferences, and participate in the Southeastern Coalition for emergency management. Melissa also mentioned their partnership with the Alzheimer's Association for memory care services.
Our House is Growing
Looking toward the future, Our House has an exciting vision for growth and expansion.
"Our corporate office has talked about establishing more facilities in Minnesota, so we might grow. It's a very good possibility," Melissa shared. Their commitment to providing exceptional care could potentially reach more seniors in the coming years.
As Our House continues to flourish, they are actively seeking passionate individuals to join their team. They have open positions for Residential Care Assistants (RCAs) and offer comprehensive training for those interested in pursuing a career in healthcare. Melissa emphasized that the ideal candidate should be caring, compassionate, and patient. Starting as an RCA can provide valuable experience for those considering a career in nursing.
Our House: "Quite the Little Secret" in Austin, Minnesota
Our House stands as a shining example of senior housing and care in Austin, Minnesota. With their genuine dedication, person-centered approach, and vibrant community, they continue to make a positive impact on the lives of their residents.
As Melissa Madison aptly stated, "We're quite the little secret," but it's a secret that deserves to be shared, celebrated, and embraced by the entire Austin community.