Emerald Ash Borer in Austin, Minnesota: What Property Owners Need to Know
What is the Emerald Ash Borer?
The Emerald Ash Borer is an invasive insect that attacks only ash trees only. Unchecked, the borer can kill an ash tree in as few as three years. The borer lives between the bark and the wood. It has no known natural predator, and it's not going to naturally die off until it runs out of food sources – namely, ash trees.
Dave Merrill, Director of Austin Parks, Recreation & Forestry for the City of Austin, Minnesota said the time to get informed about the Emerald Ash Borer is now.
"They stay in one tree until it's dead," Dave explained. "Then they move very short distances to the next tree, but they move effectively. They've migrated from the east, and it's Minnesota's time."
Austin, Minnesota: Home to A Lot of Ash Trees…For Now
According to Dave, ash trees comprise about 15 percent of Austin's total tree canopy, which is about 6,000 trees on both private and city property.
With only 2,300 of those trees on city property, boulevards, parks, other public spaces, that leaves nearly 4,000 additional ash trees on private property. Property owners with ash trees have big decisions to make.
How to Tell If Your Ash Tree is Infested with Emerald Ash Borer
Danielle Morem of Morem Tree Service explained how you might first notice the effects of the Emerald Ash Borer on your ash trees.
"You'll notice the tree starting to die from the top down. You also may see bark separating from the top of the tree. The leaves may not look as healthy or full as in previous years."
Danielle suggested calling a local tree company to visit your property and evaluate the situation.
"We have treatment options, but if your ash tree shows signs of 50 percent infestation or more, it's not worth saving. In that situation, you need to remove that tree, because, at that point, treatment isn't an option."
Treatment Options for Emerald Ash Borer
If your tree is still healthy and exhibiting little or no damage from Emerald Ash Borer infestation, treatment is available. Chemical treatments range from saturating the soil around the base of the tree, to spraying the bark, to an injection between the bark and the wood. The injection method is proving to be the most effective method.
"We're seeing about 95 percent effectiveness with the use of injection treatments," Danielle explained. "With treatment, you're buying at least a couple more years for the tree, but it is an annual treatment, so you need to be consistent."
Although prices will vary from company to company, and their estimates will be based on the tree size and ease of access, but as a general guideline, Danielle said it's wise to budget for $150 to $350 per tree, per treatment.
Tree Removal for Emerald Ash Borer
"Tree removal is a difficult, dangerous business," Dave Merrill pointed out. "You have to have the right equipment or the right people to do the job at the right time."
When an ash tree dies, it becomes brittle, which can present additional risks during removal.
"A tree removal company that sees a dead ash tree will price removal differently than the removal of a living tree. The longer you wait, the more dangerous it gets."
Is the City of Austin Removing Trees on Private Property?
Property owners are responsible for the treatment and/or removal of their own ash trees, according to Dave Merrill.
"The City is responsible for boulevard trees, managing our parks, managing the nature center, but not for private property. If you have a tree on your lot that is not on the boulevard, that is your responsibility."
He mentioned that if a tree on private property is reported as a dangerous tree, the City will hire a contractor to remove the tree and assess the property for the cost of removal.
Disposing of Ash Wood in Mower County
Both Danielle Morem and Dave Merrill suggest finding a licensed contractor to take down ash trees affected by the Emerald Ash Borer, but if you are experienced with tree removal, you still will be faced with proper disposal of the wood.
"Mower County is part of a quarantine zone for ash wood," Dave said. "If you take down a tree, you can chop it up, use it for firewood in your backyard. I would maybe discourage you from stacking it up in your living room because there are probably some bugs living in there. You can chip the wood to an inch square or less and use it for mulch."
Danielle said that Morem Tree Service and many other tree service companies could also pick up the wood from your property.
"Most of us who own a tree service have a disposal site already, so that's certainly an option."
Choosing a Qualified Tree Services Company for Treatment or Removal
The City of Austin provides a list of tree services companies licensed to provide treatment and removal. Call them for the approved list of contractors at (507) 433-1881.
For more than 40 years, Morem Tree Service has served the Austin area with tree services, such as tree injections, tree removal, tree trimming, stump grinding, and shrub removal.
Contact Morem Tree Service & Agri-Lawn
For more than 40 years, Morem Tree Service has served the Austin area with tree services, such as tree injections, tree removal, tree trimming, stump grinding, and shrub removal. Contact them for a free assessment.
Morem Tree Service & Agri-Lawn
(507) 437-8329
WEBSITE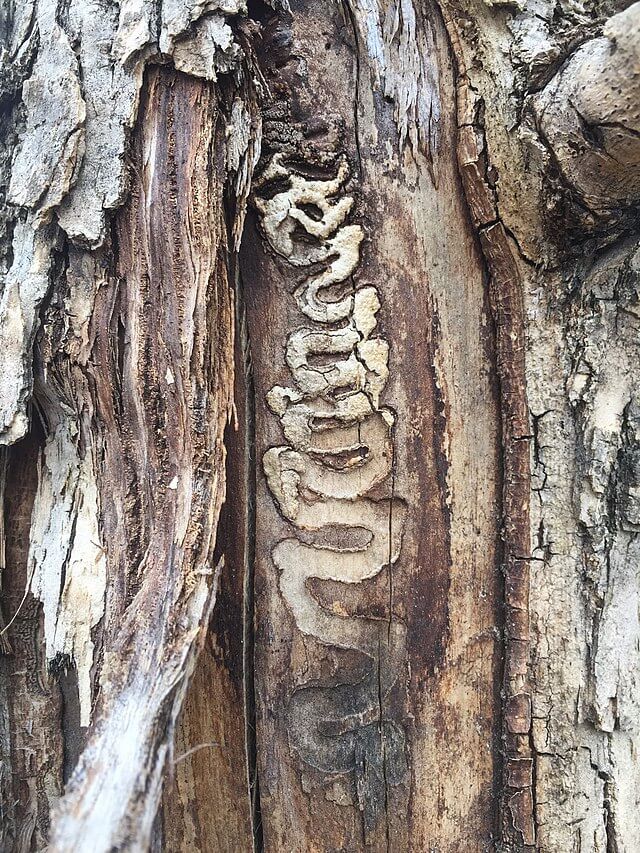 Damage from Emerald Ash Borer beneath the bark layer on ash trees.