CLA: A Big — and Local — Professional Services Firm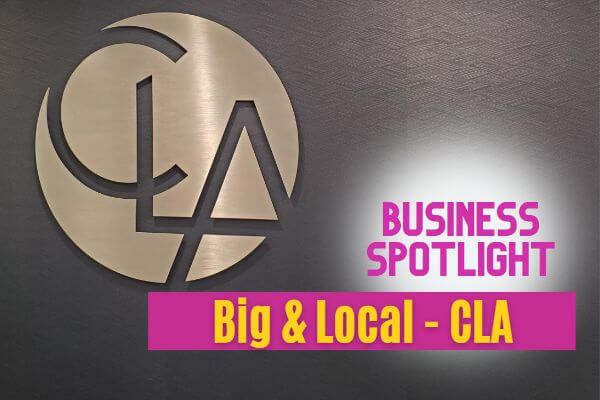 CLA is a professional services firm offering an array of services including industry-focused wealth advisory, digital, audit, tax, consulting, and outsourcing services. Nationally, CLA has nearly 130 locations, and more than 8,500 employees, making CLA the eighth-largest accountancy firm in the United States.
What makes CLA different? Focus and services
CLA is a large national firm, but key differences distinguish it from competitors.
"Our niche is privately-held businesses," said Lindsay Tweeten, CLA principal. "That's something that makes CLA distinctive — we tailor our offerings for the privately-held businesses – large and small — and to meet the specific needs of owners."
The other major difference is the variety of services CLA offers business and nonprofit clients. Although many clients in Austin rely on CLA for tax support, they soon find out there's more to CLA than meets the eye.
"Many people think of CLA as only the tax people or the audit people," said Tanya Medgaarden, CLA principal. "They don't realize everything else we can do to help. We help clients plan for transitions in business, like death and changes in ownership. Or a business might have cybersecurity vulnerabilities. We help find those holes and help keep their data secure. And where should they invest capital? Our wealth advisory consultants help businesses determine effective ways to invest funds."
Tweeten agreed noting, "People see our office on the corner of Main and Oakland in downtown Austin, and they don't realize the depth of knowledge we have in our firm and our additional professional services. We have access to professionals from across the country to assist our clients when needed," she said.
CLA can also fill in during staff transitions.
"Although we love developing long-term relationships with our clients, we can also fill in on a temporary basis," Medgaarden said. "Maybe the company bookkeeper goes on maternity leave. Maybe a position is eliminated. We help fill those gaps."
She went on to say the CLA service approach is guided by a commitment to understanding what clients need.
"We're continually listening to our clients for what they need help with, and we bring those services to them. That's always our goal: to really get to know our clients, understand what their challenges are, and then find ways to help them," she said.
What's the best way to find out which CLA services are right for you? Tweeten suggested CLA's business opportunity assessment, which takes an in-depth look at internal structure, processes, and systems to develop a comprehensive report and implementation plan.
"That assessment lets us dig deep in a very focused manner to help you become more efficient and strengthen your financial health," she said.
CLA: Local people who love Austin
Of CLA's 8,500 employees, more than 20 live and work in the Austin community — and give back to it. For example, CLA gives its employees 20 hours of paid time off to volunteer each year.
"Volunteering and community involvement is part of our culture," Tweeten said. "We want everyone at CLA to get out in the community and find something they're passionate about. United Way is a popular choice. We've been part of the backpack program, helping to pack 300 school bags at the beginning of the school year. We've done a big toy drive and food drive with the Salvation Army."
When employees are involved in their communities, they're more likely to settle in for the long term with their employers. Medgaarden is a good example. She started with CLA in Austin right out of college and soon found Austin to be her new hometown.
"I met my husband here, and he was born and raised in Austin. That cemented my roots here," she said. "Now we have three kids in school here and active in sports. Austin feels like home."
Tweeten feels the same way.
"I love the people of Austin. There are so many good people who care about the community and want to do good things," she said. "And I just think we have some of the nicest people that you can find anywhere. It's the people who make Austin great."
---
For more information on CLA's offerings in Austin, contact Lindsay Tweeten at lindsay.tweeten@CLAconnect.com or 507-434-7087 or Tanya Medgaarden at tanya.medgaarden@CLAconnect.com or 507-434-7027. 
 The information contained herein is general in nature and is not intended, and should not be construed, as legal, accounting, investment, or tax advice or opinion provided by CLA (CliftonLarsonAllen LLP) to the reader. For more information, visit CLAconnect.com.
 CLA exists to create opportunities for our clients, our people, and our communities through our industry-focused wealth advisory, digital, audit, tax, consulting, and outsourcing services. CLA (CliftonLarsonAllen LLP) is an independent network member of CLA Global. See CLAglobal.com/disclaimer. Investment advisory services are offered through CliftonLarsonAllen Wealth Advisors, LLC, an SEC-registered investment advisor.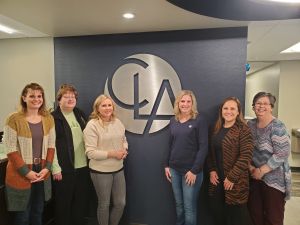 Part of the friendly CLA - Austin office staff. (Tanya Medgaarden, center left and Lindsay Tweeten, center right.)