The Kris Heichel Team: Hometown Heart for Home Buyers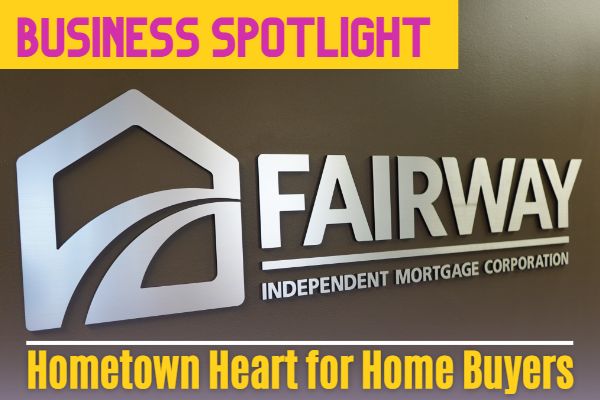 The Kris Heichel Team Powered by Fairway Independent Mortgage Corporation is a residential mortgage company with offices in southeastern Minnesota. Kris Heichel is a loan officer who also is the branch manager for the Austin and Rochester locations.
"We are a lender for first-time home buyer loans, construction loans, renovation loans, and reverse mortgages. Basically, you find the property, and we finance it."
Kris is actively involved in the Austin community, and she loves the ability to help home buyers make Austin their hometown.
"I love that everything we do is done locally. From the first meeting with the client or first phone call all the way up until the loan is funded, everything is handled in our Austin or Rochester offices. Being local gives us the ability to do things very quickly."
What First-Time Home Buyers Need to Know about the Mortgage Process
Kris explained that Fairway Mortgage is passionate about helping first-time home buyers.
"Buying a home is a wealth-builder for families, but the whole process can seem overwhelming. Many people think that home ownership is an unattainable goal. We tell them what to expect every step of the way—not just from us as a lender, but also from the real estate agent, from your insurance agent, and from the title company. We hold their hand through the process to help keep them on track while we do what we need to do to find the right financing products for them."
The number one thing first-time home buyers need to know is that they will need to have documentation ready to keep the loan approval process moving.
"There are going to be a lot of detailed things we're going to need to process the loan application," Kris said. "Be prepared to provide documentation, like tax returns, pay stubs, and bank statements. Although it may seem we're being nitpicky, these are the things any lender will expect to ensure a speedy loan approval."
Once the loan application is reviewed and approved, buyers are one step closer to their new home.
"When my team approves your application, we give you a pre-approval, which essentially gives you a license to shop for a home in your price range."
Easing the Home Loan Approval Process with Make Sense Underwriting
"Taking out a mortgage is a big deal—probably the biggest investment you'll make in your life," Kris said. "That means any lender has requirements to fulfill the guidelines of whatever product that you're using to purchase that home."
She explained that each standard financing program (like Fannie Mae, Freddie Mac, and FHA) sets minimum requirements for borrowers using these core products. Some lenders or banks add more stringent requirements on top of these minimum requirements, making it even more difficult for some homebuyers to qualify for a mortgage.
Fairway Mortgage, however, doesn't do that, according to Kris.
"That's one of the other major differences with Fairway Mortgage. We call it Make Sense Underwriting. Our underwriter reviews it they look at the file, they see what they need to make the loan whole or to make it sellable, and that's all they ask for. We make the case with our executive team for our clients when we need to, and our underwriters look for ways to make the loan happen. We aren't looking for ways to deny a loan or set conditions that make borrowing an overwhelming burden for our clients."
She described a recent example where Make Sense Underwriting helped move a home purchase loan forward.
"We recently had a client who had gone through the loan application process with another lender, and a couple of days before, he was told his loan was denied. His real estate agent reached out to me and asked if Fairway could help. We got the information we needed, and within 24 hours, we expedited everything, including the appraisal. From the time we disclosed the application to the client until we had our clear to close, it was four days. He still needed to delay closing by a few days as there is a seven-day waiting period required by law, but he was able to close on the home he wanted. That was a great opportunity for us to shine. Seeing our clients get those home keys for the very first time is a good feeling."
Fairway Has a Heart to Serve the Austin Community
Fairway Mortgage has a heart to serve our community through philanthropic initiatives and volunteering. Fairway Cares is one of those programs. It is a charitable arm of Fairway Mortgage and its 10,000-plus nationwide employees. Through employee referrals, Fairway Cares provides care packages financial assistance to people facing health crises or deaths in the family.
"Through Fairway Cares, we have an opportunity to help people who are in need," Kris said. "For example, we had a tragedy in Austin a year or so ago, and I applied to Fairway Cares, telling the story of the family's tragedy. I simply requested a care package, but Fairway Cares went above and beyond, giving that family $13,000, which paid for a very unexpected funeral. That generosity eased—just a little—the burden that local family faced. I love how Fairway Mortgage can help people when and how they need it."
The American Warrior Initiative supports veterans with a variety of services, including help with home remodeling. As part of that program, Fairway Mortgage has provided hundreds of service dogs to veterans.
"As odd as it sounds, those dogs save lives," Kris said. "We hear from veterans who literally say, 'this dog saved my life.' My team wears red t-shirts on Friday in honor of everyone deployed in the military, and if you would like to support the American Warrior Initiative, please stop by our office, and we'd be happy to accept a donation and suit you up with an American Warrior Initiative t-shirt. Our veterans have served us, so now we help to serve them."
Giving Back to Austin Area Chamber Members
The Kris Heichel Team paid it forward to the Parenting Resource Center by gifting an annual membership to the Austin Area Chamber of Commerce membership. On behalf of the Chamber, we salute Kris and her team for her community-minded approach to business.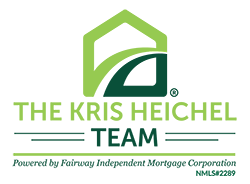 The Kris Heichel Team Powered by Fairway Independent Mortgage, Corp.
1403 15th Avenue, NW Suite A
Austin, MN 55912
P: (507) 460-4500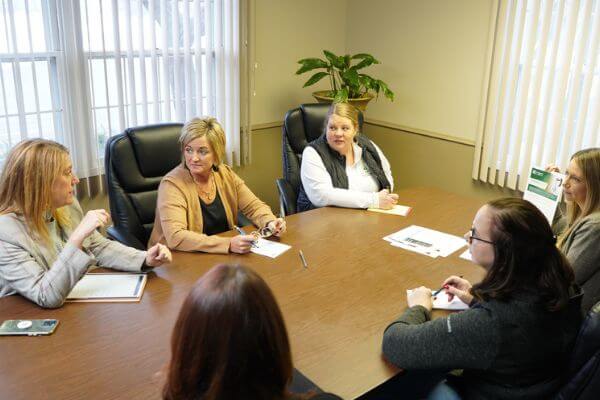 The weekly scrimmage of the Kris Heichel Team.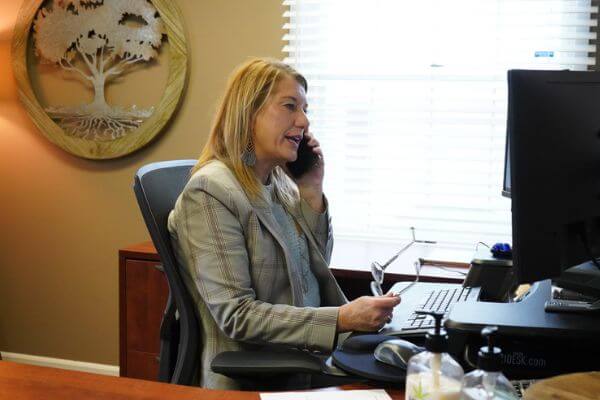 Kris Heichel discussing a loan application with an underwriter.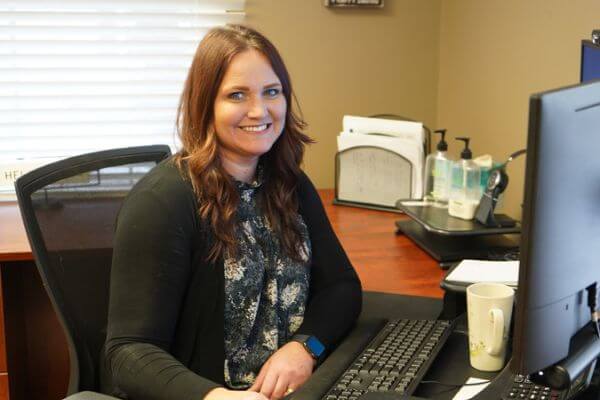 Melony Berndt, Loan Officer Assistant and active Chamber Ambassador.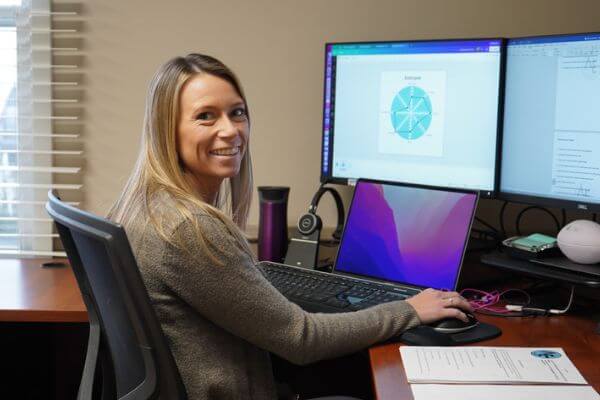 Bri Masching, Marketing Assistant.