Land Home Financial Services & the Homes for Heroes Program
Land Home Financial Services: National Mortgage Lender with an Austin Area Focus
Land Home Financial Services is a standalone mortgage company that provides mortgages for purchases, refinances, investment properties, and second homes.
Land Home is "big, yet small," according to Lisa Schara, Branch Manager.
"Our Austin office is part of a nationwide company, but we can focus on the Austin community. We service about 90% of the loans we originate."
Alissa Penkava, Senior Loan Officer, explained that first-time homebuyers are their specialty.
"We have down payment assistance programs to help people buying their first homes," she said. "We want people to put down roots in Austin, just like we have."
Property Loan Programs Plus Homes for Heroes
Land Home Financial Services offers the standard financing programs: conventional, FHA, VA, Rural and Development (USDA), but they participate in an exciting program called Homes for Heroes specifically for veterans, teachers, firefighters, police officers, doctors, nurses, and EMTs. Military veterans and active military also can participate, whether or not they have a certificate of eligibility benefits from the VA.
With members of their own family and friends working as firefighters, EMTs, police officers, and teachers, the program hits close to home for Alissa and Lisa.
"We see the sacrifices they make every day and the value they bring to the community," Lisa said. "The Homes for Heroes program is our way of giving back and saying thank you."
The program reduces home purchase costs for hometown heroes.
"As a lender we reduce closing costs for service heroes by $500," Alissa added. "When qualifying homebuyers work with us and a participating realtor and title company, they can save even more."
For example, on a $150,000 house, if you financed through a participating lender like Land Home Financial Services, and used a participating title company and realtor, you would save about $1,750.
"It's not limited to first-time home purchases," Alissa explained. "Service heroes can use the program discounts for investment properties, primary home, second home, or even refinancing an existing mortgage."
In the past two years, Land Home Financial has provided nearly $30,000 in discounts right in the Austin area for about 60 program participants. There are no purchase amount requirements, as Lisa pointed out.
"It doesn't matter if you're buying a $80,000 house or a $400,000 house; you're going to receive the benefit."
"It's so easy to take part," Alissa added. "It's not a long process where you need outside approvals. It's literally as easy as signing a form, with no catches or extra work. We take it from there."
Lisa agreed, saying "It's a great program, and we'd love to see more people take advantage of it."
Contact Land Home Financial Services to Learn More
(507) 433-5595
https://mortgage.lhfs.com/AustinMN/
209 4th Ave NE, Austin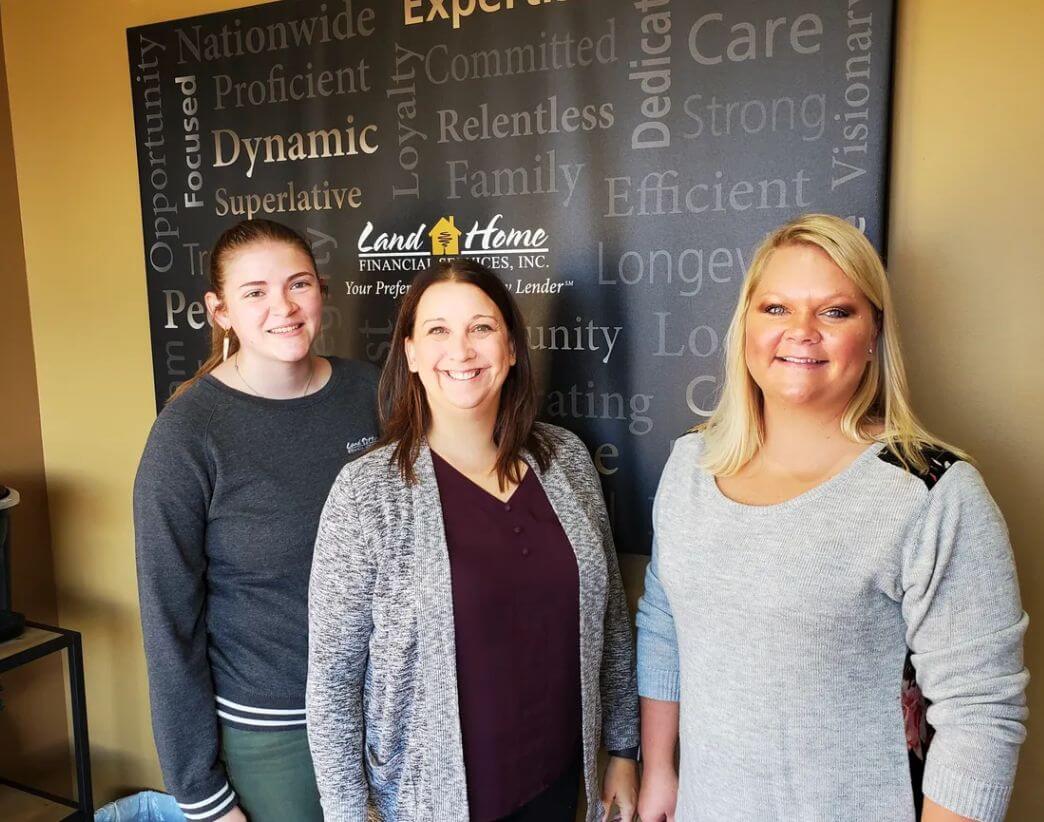 Left to Right: Kayla Grunewald, Administrative Assistant; Lisa Schara, Branch Manager; Alissa Penkava, Senior Loan Officer