BREMER BANK TAKES ACTIVE LEADERSHIP ROLE IN THE AUSTIN AREA
Since its founding in 1943, Bremer Bank is a commercial and agricultural bank that operates on the premise that if banks helped businesses in good times and bad, communities would thrive. The Austin, Minnesota, branch of Bremer Bank is part of that living heritage of community support and investment, with gifts of time, talent, and charitable giving.
BREMER BANK VOLUNTEERS
Bremer is one of the companies that builds in volunteer time for their employees. They not only encourage their employees to volunteer, but they also demonstrate their commitment by offering up to 16 hours of paid community volunteer time each year. As an organization Bremer Bank employees volunteer an average of 32,000 hours each year.
Nan Hanegraaf, Market Lead from the Austin branch of Bremer Bank, explained that Bremer encourages volunteering opportunities, but ultimately employees decide how they want to give back to the community.
"From mentoring students to helping with the Walk to End Alzheimer's, our employees in Austin go beyond when it comes to getting involved in the community. They often bring in volunteering ideas that other employees get excited about."
Nan said that the Bremer volunteer program allows her and her coworkers to plug into the Austin area community.
"We're very involved with United Way, for example, we helped pack backpacks for student with school items and necessities. We also participate in an annual collection for the Salvation Army."
BREMER BANK CHARITABLE DONATIONS & COMMUNITY SPONSORSHIPS
The Bremer Trust is the charitable arm of Bremer Financial and a majority owner. Together, they work closely with the communities they serve to support charitable development and outreach programs.
Nan mentioned that charitable mission is one of the things she enjoys about her role.
"I love going to work, knowing that Bremer Banks' profits go back to our communities."
In addition to supporting the Austin area with volunteers and charitable giving, Bremer Banks also sponsors youth sports and many other community events – not the least of which is the AMIGO Day All Member Invitational Golf Outing.
BREMER FINANCIAL SUPPORTS LOCAL COMMUNITIES IN THE AUSTIN, MINNESOTA AREA
Bremer Financial Corporation is a privately held, regional financial services company with $16 billion in assets, jointly owned by the Otto Bremer Trust and Bremer employees. They offer banking, mortgage, investment, wealth management, trust, and insurance in Minnesota, North Dakota, and Wisconsin. Their clients include small businesses, mid-sized corporations, agribusinesses, nonprofits, public and government entities, and individuals and families.
Special thanks to Nan Hanegraaf, Market Lead from the Austin branch of Bremer Bank, for sharing Bremer's community-oriented initiatives and for being a vibrant member of the Austin Area Chamber of Commerce's board of directors.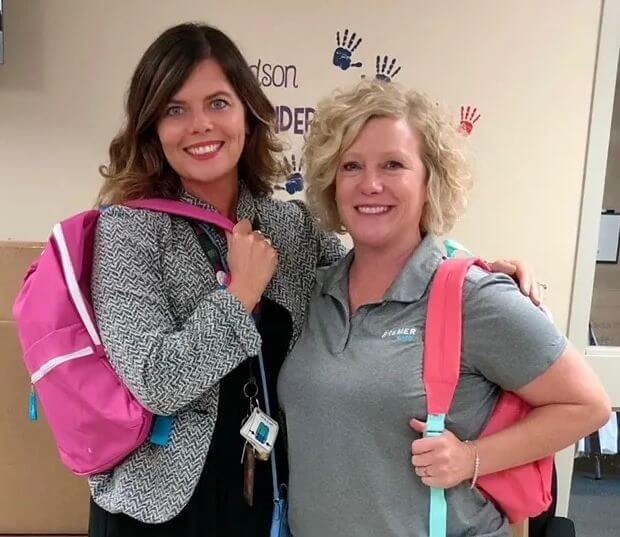 Nan Hanegraaf of Bremer (right) delivering backpacks to Jill Rollie, Principal at Woodson Kindergarten.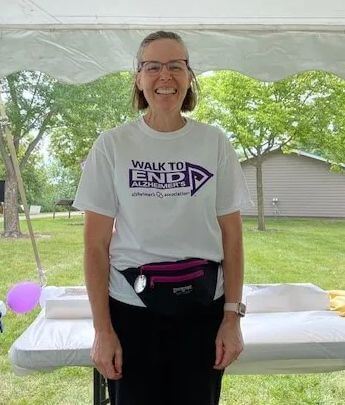 Julie Baumgartner of Bremer at the Walk to End Alzheimer's.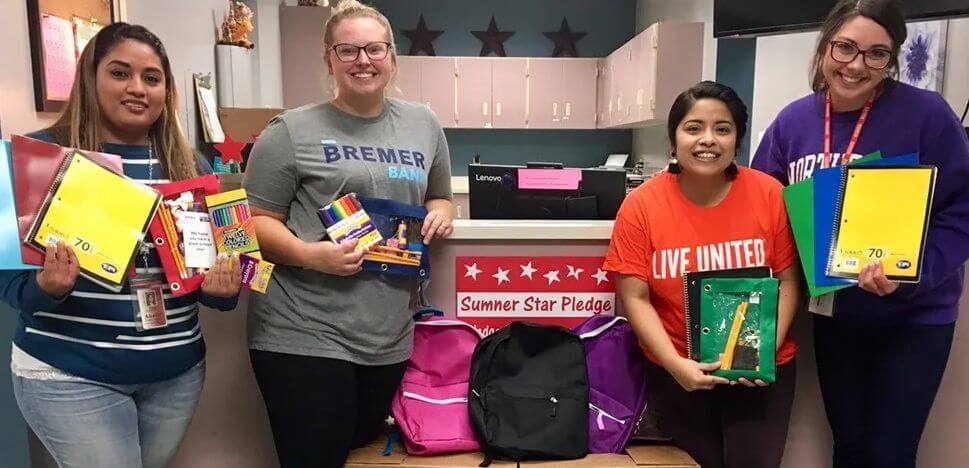 Holly Hines (second from left) from Bremer Bank helping with supplies for backpacks.