Austin Utilities Can Save Your Business Money
Austin businesses can save money while reducing their energy usage, thanks to Austin Utilities.
"We always have helped our customers save electricity and natural gas, rebate programs being a prime example," Kelly Lady pointed out. She is the Marketing and Energy Services Manager for Austin Utilities.
"We're not just here to provide natural gas, electric, and water services: we are part of the community, and we want the entire community to benefit."
5 Things Austin Businesses Can Do Right Now to Save Money
Energy Audit Rebate. The Commercial Energy Audit rebate helps businesses cover the cost of an energy audit report or technology/engineering study completed by certified energy auditors, professional engineers, or certified energy managers.
LED Lighting. Change your lighting fixtures and bulbs to LEDs. LEDs provide a fast payback, and Austin Utilities offers LED rebates for purchase and installation of LED systems.
Equipment Upgrades & Maintenance. Take advantage of energy efficiency opportunities for heating, cooling, and food-service equipment; for example, cleaning and tune-ups literally pay back to business owners through reduced energy usage and by extending equipment lifecycles.
Interest-Free Financing. Austin businesses can purchase energy efficient equipment through an interest-free loan program. Payments are made directly as part of the business's utility bills. Kelly recalled a recent local business owner who needed a new rooftop unit. "She didn't want to top too much of her capital reserve for the purchase of a new unit. Thanks to our program, she is purchasing a new energy-efficient rooftop that qualifies for our program and using the interest-free financing option to cover the costs of the equipment and installation."
Business energy HERO program. Businesses sign up to be an Energy Hero, and whenever we experience a community peak-energy event, they receive an alert, so they can reduce non-essential loads. Participation is voluntary, but businesses receive an Energy Hero decal for display for their businesses, and they also receive recognition on our website and communication materials.
---
Even if businesses don't participate formally in the Energy Hero program, they can still be energy heroes – and reduce their cost by taking some easy steps:
Turn off non-essential accessories when not in use, like workspace task lighting and desk fans
Use motion-activated lighting for restrooms, storage, and warehouse areas
Turn up AC Thermostat +2°F.
Close doors to unconditioned spaces
Who Is Austin Utilities?
Austin Utilities is in the unique position to provide electric, natural gas, and water to businesses and residential customers.
"Not many utilities in Minnesota deliver all three of those services," Kelly explained that in many communities, the municipal utility is governed by the city council, whereas Austin Utilities has its own board of directors.
"Austin Utilities isn't here just to send you a bill every month," Kelly emphasized. "We've got audit programs and rebate programs, all kinds of ways for you to save on your bill and lower your operating costs."
So, what are you waiting for? Check out the many rebates for businesses and other available programs from Austin Utilities.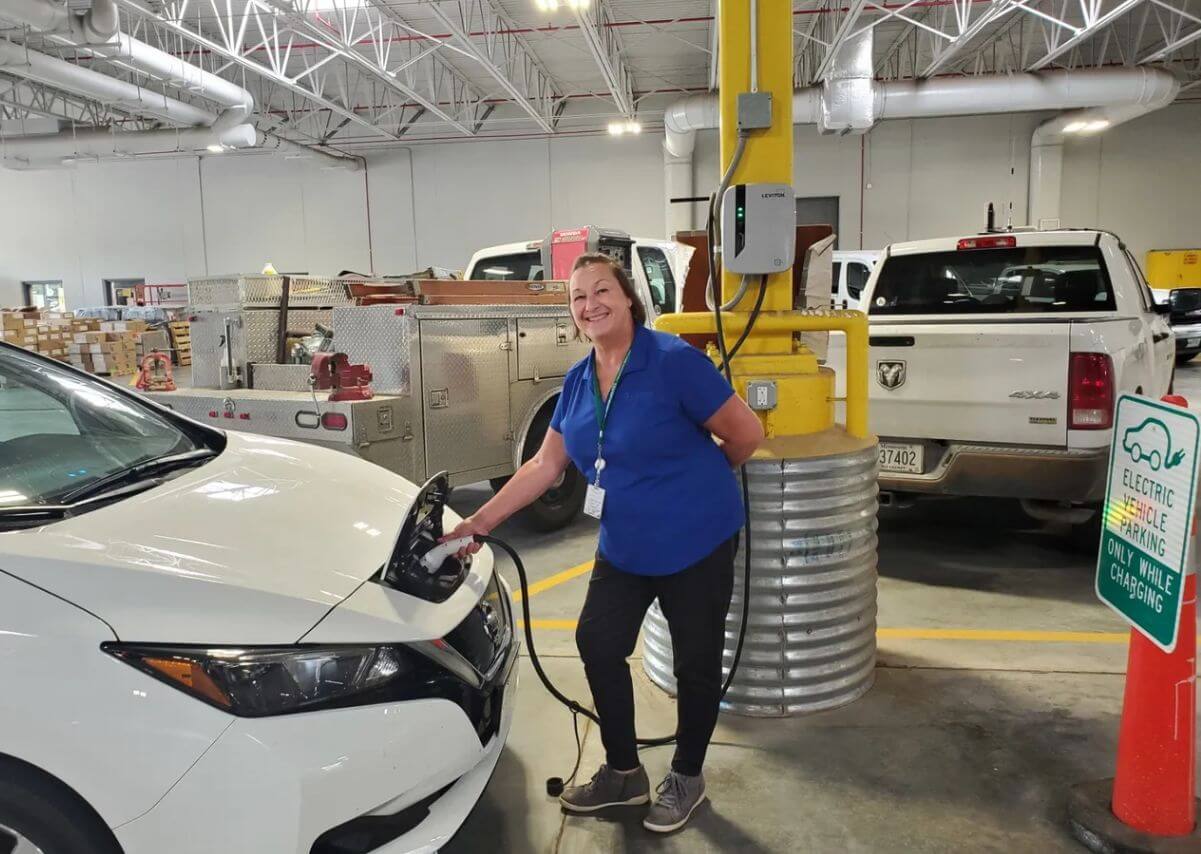 Kelly Lady, Marketing and Energy Services Manager for Austin Utilities, charging up an electric fleet vehicle.
Mark Nibaur, General Manager for Austin Utilities, reliving his days in the field.