Pet Supplies Plus in Austin: Howdy Neighbors!
The Pet Supplies Plus team in Austin refer to their customers as neighbors. Store Manager, Danny Dieterich, explained that this sets the stage for friendly and personalized service.
"We are that local pet store where people can bring in their pets. It's another opportunity to build a sense of community in Austin."
And the idea of customers being treated as neighbors at Pet Supplies Plus isn't an exaggeration, as Danny proved from a recent encounter.
"I saw a dog at the bank yesterday pulling his owner by the leash, and later that day, the same man and his dog came into the store, and we struck up a conversation, just like neighbors do. Austin really is our neighborhood."
High Quality, Specialized Pet Food
Hailey Ott, Assistant Store Team Lead, explained that the Austin location carries high quality and specialized pet foods, some of which are available exclusively at Pet Supplies Plus.
What Constitutes High-end Cat and Dog Food?
"They're made with quality ingredients and fewer fillers," Hailey explained. "Most dog foods use a filler of some sort, but quality depends on the type of filler. For example, the brands we feature, like Redford Naturals, OptimPlus, and Merrick, have high-end fillers, like rice, potatoes, and peas, instead of low-end fillers like corn, chicken meal, and lamb meal."
Ingredient source is another consideration when it comes to pet food.
"Redford Naturals, for example, is a Pet Supplies Plus brand named after the very first Pet Supplies Plus store in Redford, Michigan," Hailey said. "It is produced in the United States with ingredients sourced here, we can keep the price competitive."
The options for quality foods appeal to pets in terms of taste, and their owners for quality, value, and accommodating their pets' special needs.
"We've got whole-grain food or grain-free options for pets with sensitive stomachs, or for specific dog breeds. And we have multiple flavors from duck to venison to beef to chicken. The variety is incredible."
Pet Supplies Plus Rewards Program
Danny explained that in addition to sales and promotional offers, Pet Supplies Plus offers a robust Rewards Program.
"Let's say you get your dogs groomed every five or six weeks. Each time, you earn rewards points toward more grooming or products. And after you purchase 12 bags of dog food, the next one is free."
According to Danny, the Pet Supplies Plus Rewards Program is a free program where neighbors earn free products, services, and savings for every dollar they spend on products and services.
DISCOVER PET SUPPLIES PLUS REWARDS PROGRAM
Full-Service Pet Grooming Salon
The Pet Supplies Plus Grooming Salon offers haircuts, baths, and specialty grooming services, like toenail clipping and ear cleaning packages. They even have a do-it-yourself dog wash area.
When you think of pet grooming, do you think only of dogs getting their fur trimmed? The Pet Supplies Plus salon is a popular spot, because they accept all sorts of animals.
"We take iguanas to get their nails trimmed and birds to get their nails and beaks trimmed," Pet groomer, Lizzy Dobmeier, explained. "Turtles, cats, bunnies, dogs. We even had somebody bring their llamas for grooming."
She suggested to begin grooming pets when they're young.
"They just get more comfortable with the process. Once they know they're going to look and feel great, they love it!"
She said her favorite parts of her job are the pets she grooms and the artistic nature of her work.
"I love the creativity of it all. I love animals, and now I get to work hands on with them every day. Sometimes I get to do the coolest things, like turn a dog into a giraffe. My favorite part of grooming is seeing the transformations."
Hailey and Danny's Favorite Dog Toys
When asked which toy he recommends for dogs, he immediately gravitated to one that looked like a shaggy fox.
"This is the Unstuffed Flattie Fox," Danny said. "It has squeakers at the top and the bottom, but not stuffing, so if your German shorthair pointer rips it up, there isn't a big mess."
Hailey suggested the Playology Squeaky Chew Stick.
"These are durable toys but they're chewy enough not to break teeth. I've had neighbors with the toughest chews come in and show me pictures two weeks later of these toys and they're still one piece. Their animals love them."
What's it like to work at Pet Supplies Plus?
Both Danny and Hailey mentioned that the favorite parts of their day are helping neighbors, meeting new pets, and helping the Pet Supplies Plus team gain great experience in a retail environment.
"We all love helping neighbors find that new family member," Danny said, "whether it's a reptile, fish, or a hamster. And when a family has a new puppy or a kitten, we are thrilled to help them find all the toys and treats, and leashes and leads."
Hailey, who grew up in a small-town environment, said she enjoys the sense of community. "I love that neighborly feel and hearing stories about their pets. Lots of neighbors even show us pictures of their pets with the products we've helped them find. It's a very neighborly feel the moment they walk in that door."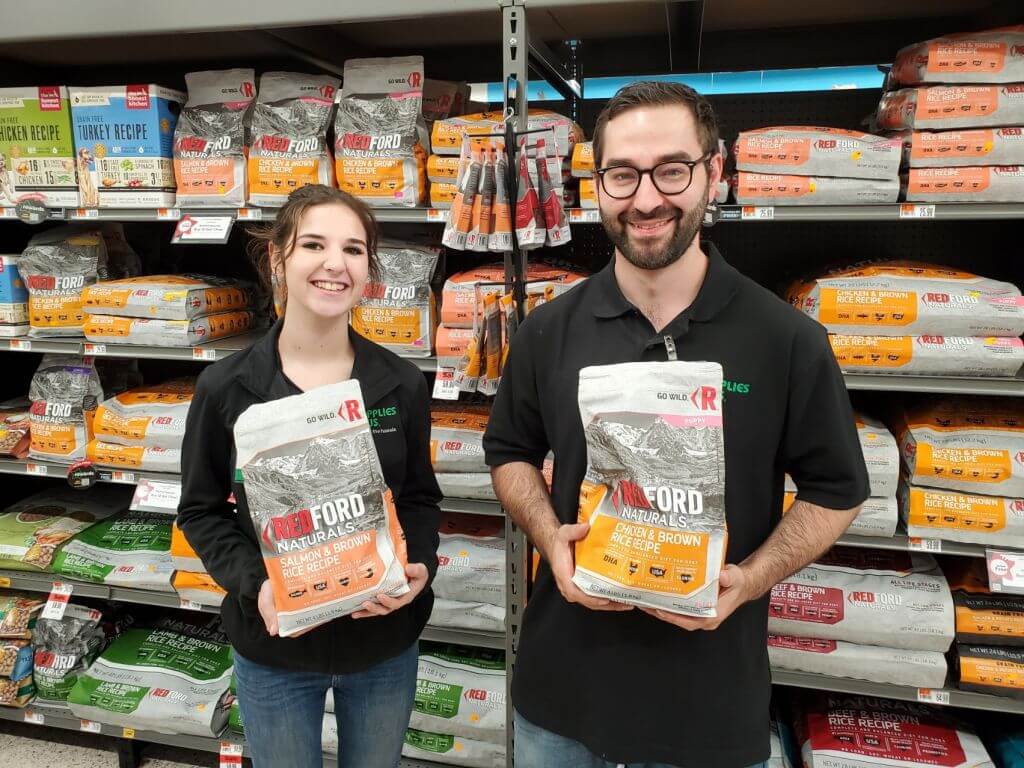 Hailey Ott (Assistant Store Team Lead, left) and Danny Dieterich (Store Manager, right) showing off Redford brand pet food.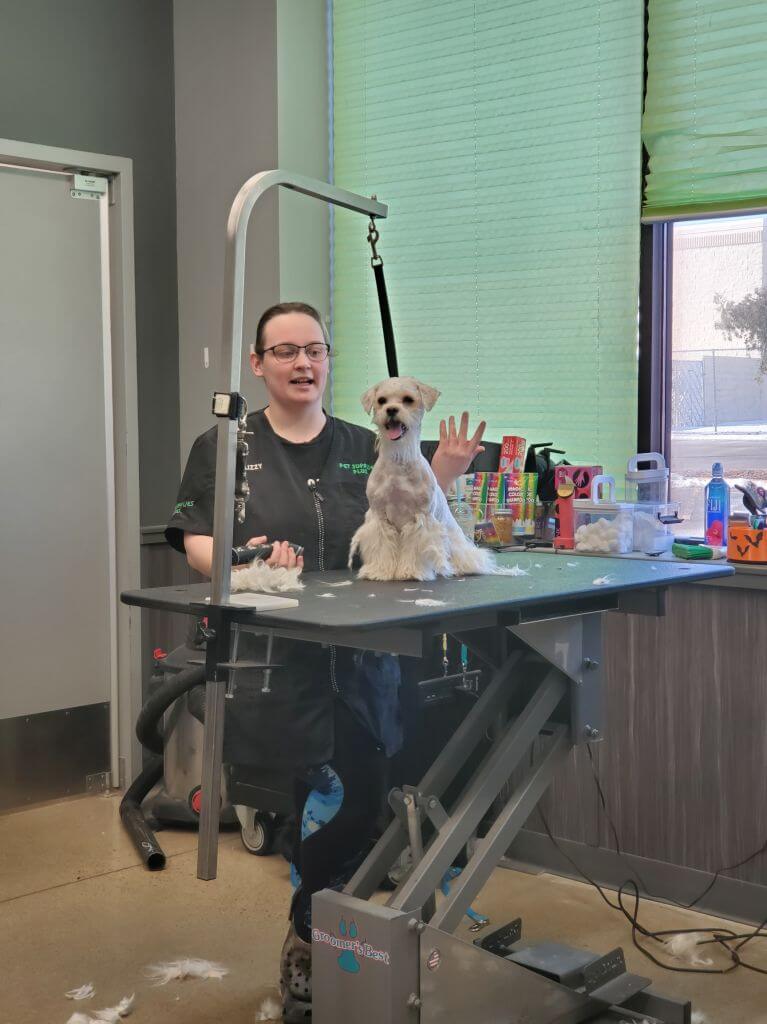 Lizzy Dobmeier explains why she loves her job as pet groomer at Pet Supplies Plus.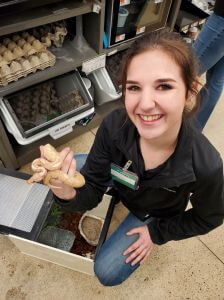 Hailey shows off a ball python.