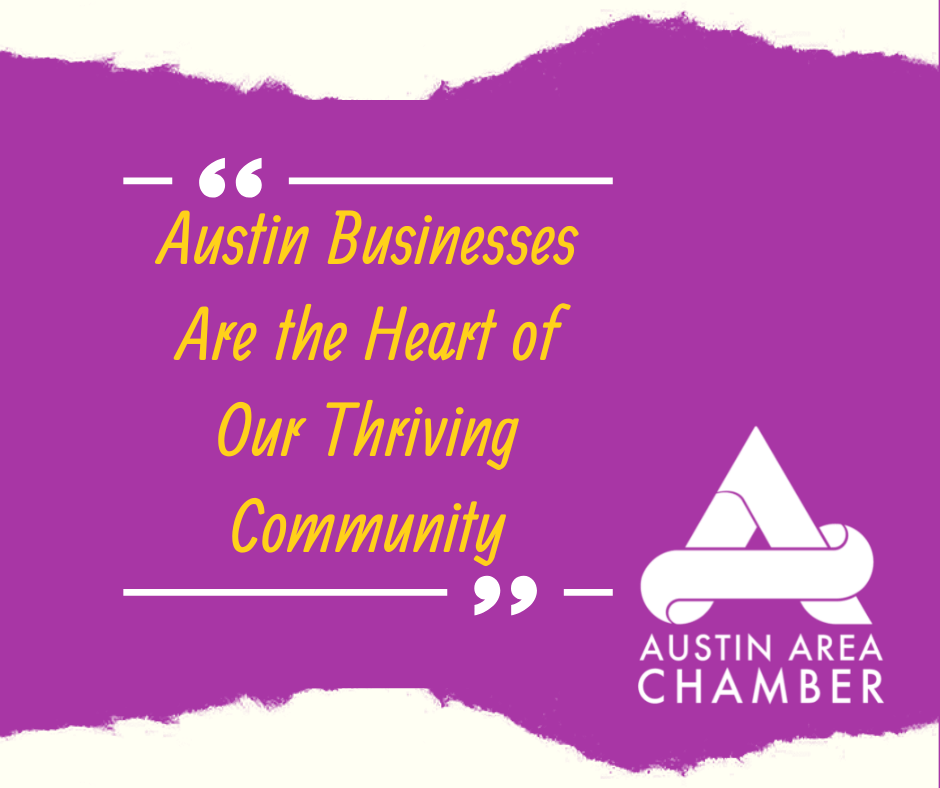 Living Our Mission: Why We Do What We Do
What keeps us, the staff, volunteers, and community partners of the Austin Area Chamber of Commerce, motivated to serve our members? We're enthusiastic in our belief that the only way for every individual to succeed in our community is if our businesses thrive.
Our businesses create momentum. Their success attracts new residents to Austin, which, in turn brings even more businesses.
Our businesses provide jobs and services that create economic opportunities for residents, which in turn strengthen the local economy. Those same businesses provide taxes for public services such as schools, libraries and municipal infrastructure, such as water treatment and road improvements.
Our businesses contribute to the culture and identity of Austin. They provide a variety of goods and services to the community, giving people access to products and experiences that they may not have otherwise.
Our businesses not only provide goods and services: they provide experiences. They represent Austin to visitors. They create memories.
Our businesses serve as social hubs, providing locations where people can gather and connect.
Our businesses are dynamic, resilient, and diverse. They are not all small and independent, nor are they all large and corporate. In spite of their differences in size and business models, they each adapt to changes. They each face new challenges every day. They show up every day.
Our businesses are owned, operated, and supported by our friends, families, and neighbors. Our businesses are people.
---
With members engaged in the good work of building a better Austin, the Austin Area Chamber of Commerce is only too happy to help them succeed. In this way, we all grow and succeed, setting the foundation for healthier, happier, and more prosperous future for Ausitn.