Doma's 'Secret Sauce' for Efficient Title Closing
Doma is a national real estate title company with 80 offices in 8 states—17 of those in Minnesota alone. 
---
"Doma sees itself as architecting the future of real estate transactions, which basically means we make it as easy and fast as possible to complete property transactions," Lisa Gresham explained. She is the Regional Escrow Operations Manager overseeing several of those Minnesota locations, including the Austin office.
"As the third leg of the real estate transaction stool, we work with lenders and realtors. We offer title insurance to the lender to protect their part of the loan, because we did the title search, and then we issue an owner's policy to the buyer, which protects them."
Other title companies provide similar functions, but using technology and automation sets Doma apart, according to Lisa.
"We use automation to streamline as much of the process as we can. For example, we have instant underwriting for refinances for current property owners, so within an hour we can have title work out to the lender, which means we could close within days versus weeks."
Tasks such as filling out the Electronic Certificate of Real Estate Value (eCRV), which is a form that needs to be filed when any Minnesota real property is sold or transferred for more than $3,000, also is completed through automation.
"We have automation that orders payoffs and that underwrites our refinance files," Lisa said. "Lenders and borrowers come to us during refinancing because they want to get it done as quickly as possible. I love that, because these can be important transactions affecting people's lives, I don't want us to be the one who people are waiting to complete any part of the transaction."
Real Estate Agents Like Efficient Closings
She said that moving title transactions forward through automation not only benefits property buyers and sellers, but also real estate agents.
"The sooner we complete the transaction, the sooner the agents receive final confirmation of closing. We build those relationships with real estate agents and lenders, to be that person they come to. Some realtors like the way we do things at Doma, especially the closing technology process."
There is still plenty of human touch in the process, according to Lisa.
"We still need to diligently search properties to ensure a clear title, which means that sellers have taken care of any outstanding liens, judgements, or assessments. For example, if the property received a city assessment, that bill follows the property, not the previous owner. Our job is to provide clear title to the buyer."
Dealing with the seller end of the transaction typically takes the most time and needs to be started as soon as the parties have a signed purchase agreement.
"If there's a judgment on the property, it might take two or three weeks to get a payoff from an attorney. When we get the title back, we need to confirm everything is correct, so we call that seller right away."
Although that process requires a lot of human interaction and follow-up, technology speeds that up, too.
"We use remote online notarization, so our clients can sign all their documents electronically through FaceTime, even if they're on vacation. It's still completed in front of a real-time notary, which is required by law for that warranty deed to be recorded."
That efficient use of technology lets the Doma's Austin office complete about 70 transactions a month. It also allowed to reach a new record in April 2021 when they completed 18 closings in one day.
Doma for the Win with the Human Touch
Efficiency and automation can never replace the satisfaction of helping people, according to Lisa.
"I love my job. I love the people I work with. Earlier in my career, I was a bank manager and a mortgage officer, and those are positions where you don't often get to see people when they're excited. But now I get to be that happy face they see when they come into close. It's like I'm at the finish line with them, cheering them on."
Lisa shared one last item that many people are surprised to find out.
"A lot of people don't realize that Doma is not an acronym. It means 'home' or 'house' in Latin. If you add the word vítej, in front of doma, it means, 'welcome home' in Czech."
Vítej doma, Austin!
Doma – Austin Branch
329 N. Main St., Suite 103
Phone: (507) 396-0072
Email: teamlisa.gresham@doma.com
Lisa Gresham (left) and Nadia Leal (right) checking the daily schedule for closings.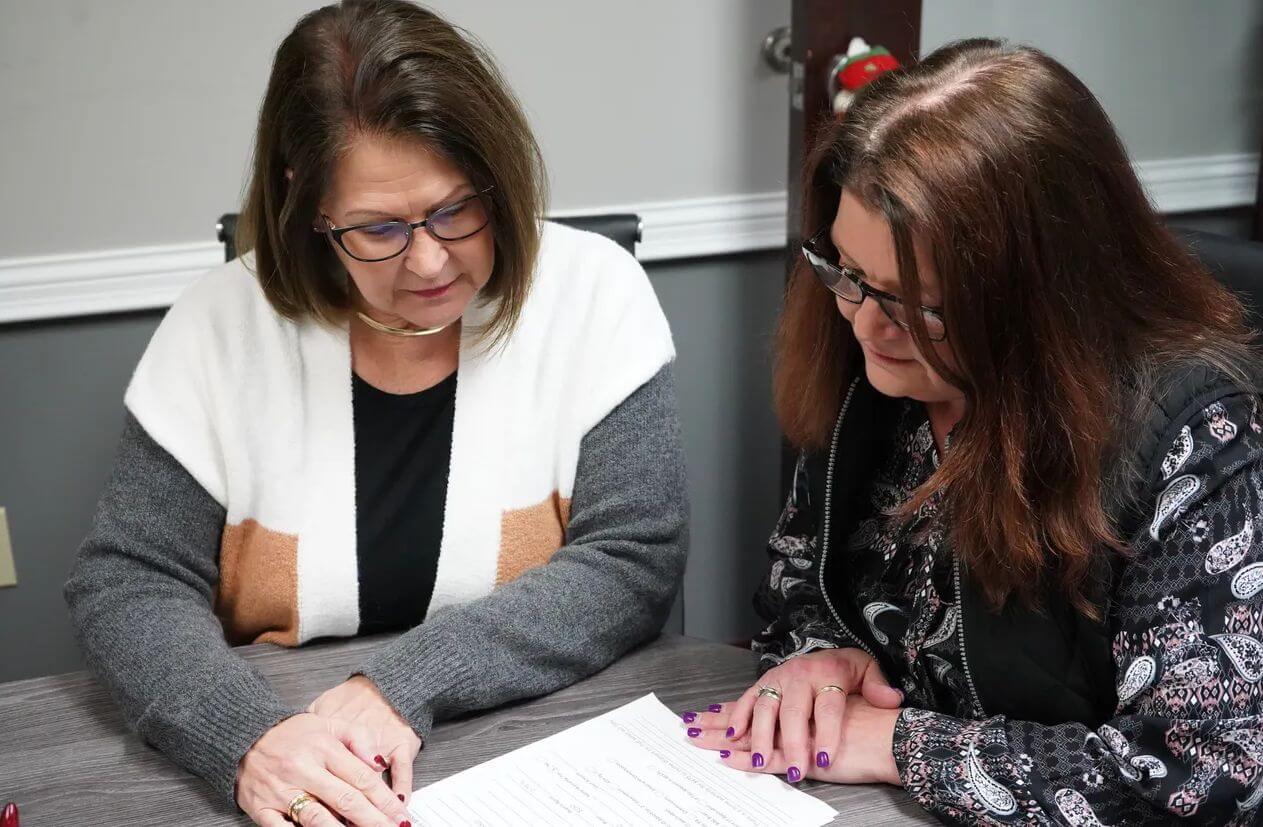 Deanne Wagner (left) and Cheryl Brady (right) verifying documents.