THRIVE Cancer Survivorship Series: Empowering Cancer Survivors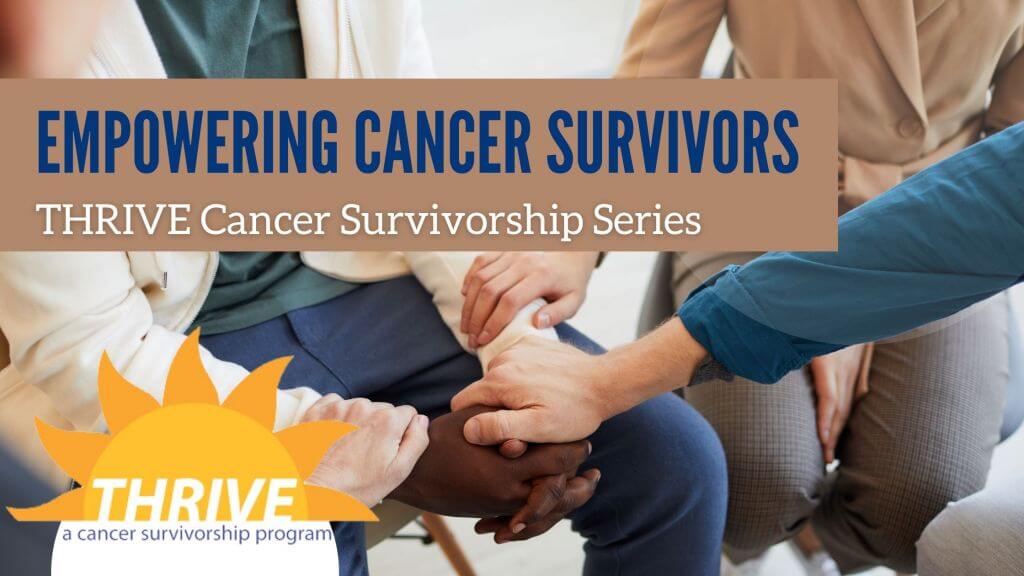 CONNECT WITH FELLOW SURVIVORS AT THE HORMEL INSTITUTE
Cancer touches the lives of countless individuals. Some describe it as a disease, but for everyone, cancer is a journey filled with unique challenges and triumphs. Navigating this path requires not only medical treatment but also the support, knowledge, and empowerment that come from understanding and connecting with fellow survivors. The Masonic Cancer Center's THRIVE Cancer Survivorship Series, in collaboration with The Hormel Institute, is a beacon of hope and information for cancer survivors and their loved ones.
---
What is the THRIVE Cancer Survivorship Series?
The THRIVE Cancer Survivorship Series is a remarkable endeavor, offering a weekly virtual program that provides a wealth of information and resources on cancer survivorship. This series, hosted by experts, covers topics relevant to individuals who have experienced cancer—from diagnosis and treatment to living with cancer and even throughout remission. The aim is to provide participants with knowledge, support, and a sense of community.
All sessions are free, and those who attend in person with us at The Hormel Institute will have the chance to win a door prize.
To register for the THRIVE Cancer Survivorship Series, click here. Can't join in person? To register to attend virtually, click here.
Access to Expertise from the Comfort of Your Home
One of the remarkable features of the THRIVE Series is its accessibility. Participants can register to attend live sessions online at 6 PM CT, and for those unable to attend in real-time, sessions are recorded for later viewing. Best of all, this valuable resource is entirely free, making it widely accessible to anyone interested in cancer survivorship. However, registration is required to ensure a seamless and organized experience for all participants.
THRIVE Series Line Up
The THRIVE Series promises an engaging and informative journey through a variety of topics, each presented by experts passionate about their fields. Here's a preview of what's to come:
Oct 3 - Supplements & Nutrition: Presented by Kelly Scheller Williams, RDN, LDN, this session delves into the advantages and disadvantages of supplements and their impacts on health.
Oct 17 - Trauma & Mental Health: Presented by Jeffery Pounds, MA, LP, LADC, this session focuses on the mental health aspects of a cancer diagnosis, offering strategies for bettering one's mental well-being.
Oct 24 - Finding Joy in Nature: Presented by Renee Levesque, this session introduces the concept of Forest Bathing—a practice that connects individuals to nature and engages their senses for a therapeutic experience. Learn about its benefits and how to try it at home.
Nov 14 - Caregivers: Presented by Allison Breininger, MA, and Pamela Mason, this session recognizes the vital role caregivers play throughout the cancer journey. It provides insight into their perspectives and challenges.
To register for the THRIVE Cancer Survivorship Series, click here. Can't join in person? To register to attend virtually, click here.
We're Stronger than Cancer Together
The THRIVE Cancer Survivorship Series is more than just a collection of virtual sessions. It's a platform for empowerment, education, and a sense of belonging. It recognizes that a cancer diagnosis is a profound journey that extends beyond treatment, and it provides survivors with the tools and knowledge to navigate this journey with strength and resilience.
We encourage anyone interested in cancer survivorship to take advantage of this exceptional resource. Whether you're a survivor, a caregiver, or simply seeking to learn more, the THRIVE Series offers valuable insights and a supportive community ready to embrace you on this journey of hope and healing.
REGISTER NOW
Register for these free sessions.