Dans Handyman Services Does It All
Hatfield Construction LLC is a fully licensed general contractor serving the Austin area.
Do you have a house project you've been putting off? Something you've been meaning to get done, but you didn't know where to start? It's time to call Dan Hatfield of Hatfield Construction LLC at (507) 589-5717 to get it done—and done right.
"It sounds cliché," Dan said. "But it's absolutely true: there's no project too big or too small for us."
As a licensed, bonded, and insured construction contractor, Hatfield Construction can take on building projects that require permitting and inspection.
REMODELING & NEW CONSTRUCTION: CALL DANS
"We're doing a lot of remodeling projects right now: bathrooms, kitchens, and basements," Dan explained. "We're building a new duplex over the summer and a couple garages. We work with a contractor for concrete work, but otherwise, when it comes to building, we can do it all."
Dan mentioned that because of his crew's range of skills, he can pick up where some contractors would leave off.
"Let's say we're building a new addition for you. We can take it to finished, including the flooring. We install vinyl, wood flooring, and carpet. In fact, we can do most residential carpet installations in a matter of hours."
EXPERIENCED BUILDING CREW
Dan's career started in construction, where he acquired the skills to build, repair, and renovate homes, garages, and other buildings. He consistently has added to his technical skills, combining a thirst to do a job right with a strong work ethic. Dan is a skilled carpenter, but, because he likes to work on a variety of projects, he and his crew take on painting, siding, flooring, laying carpet, storm door replacement, and those miscellaneous side projects that are just outside of the skill set of the average homeowner.
"Retired people might call me to help re-hang and clean their gutters," Dan explained. "Or maybe it's time for a little outdoor cleanup where I pressure wash their sidewalk or clean up the garden at the end of the season."
Basement remodeling, for example, is a popular option for Dan's clients.
"Some people want to create a new family area, or upgrade an entertainment room," Dan said, "I help them make that space comfortable and livable, without breaking the bank."
But doing the job for a fair price still means doing it right.
"That's something I pride myself on. If I do something, I do it right."
Whether it's a new garage or a window replacement project, Dan believes in using quality materials.
"I want my customers to be happy with the project," Dan said. "The work needs to look good, and it needs to last, so I don't cut corners. Customer satisfaction is a hundred percent why I'm in this business."
You can connect with Hatfield Construction on Facebook or call him at (507) 589-5717.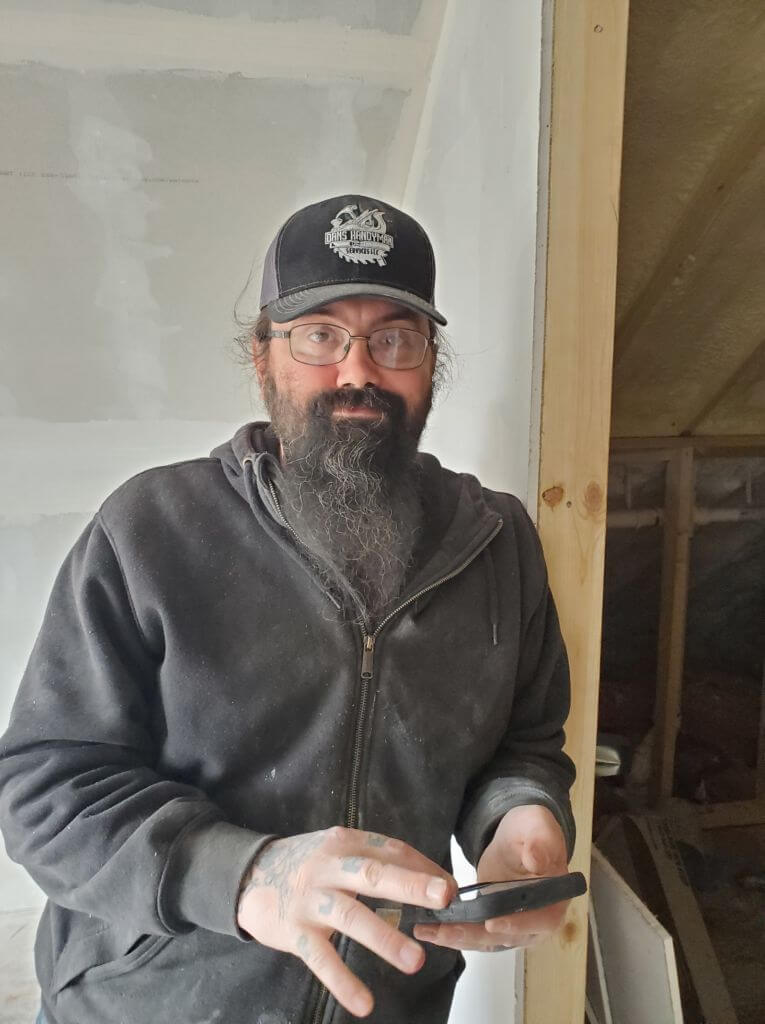 Dan Hatfield taking a call for a free estimate on a new garage project.